Sometimes things can get a little nutty on a book tour. A couple of weeks ago when I was headed to Tampa, we were forced to deplane the aircraft because a guy refused to turn off his cell phone when we were trying to take off (yes, people cheered when the cops led him away). The Delta crew handled it wonderfully, but we were already an hour late and this added to the delay. I'd left my home in New York City at nine that morning and didn't end up checking into the hotel until six. A long day, for sure. Thankfully I was there in time to have a glass of wine and watch the glorious sunset!
But don't get me wrong. Despite the occasional headache, I love touring for my books, and speaking at events, bookstores, and libraries. It's a chance to meet terrific people who are either fans or just readers in general and are curious to hear an author speak about his or her life and the writing process.
After a talk, I love chatting afterwards with those who linger behind to have books signed, and learning a little bit about them. And it's always a rush when someone you know surprises you by turning up. Like my fabulous brother Jim did at the thriller panel at the Ferguson Library in Stamford, CT.
If you're one of those people who dropped by an event on my recent tour for Such a Perfect Wife, thank you!! I can't tell you how much I appreciate your going to the effort.
And if you still haven't read Such a Perfect Wife….
…I'd love you to give it a try. I think you'll find it's the ideal thriller to pack for vacation. Here's a quick summary.
Blonde. Beautiful. A loving mother.
And missing since Monday.
On a sunny morning in late September, Shannon Blaine, a thirty-four-year-old wife and mother of two, set off for a jog along the roads near her home in Lake George, New York. It was her usual routine after dropping the kids off at school…except on this day she never returned. Is her husband lying when he says he has no idea where she is? Could Shannon have split on her own, overwhelmed by the pressures of life? Or is she the victim of a sexual predator?
True crime writer Bailey Weggins heads north from New York City to report on the mysterious disappearance for the website Crime Beat. An anonymous tip soon leads her to a grisly discovery. Every town has its secrets, Bailey reminds herself, and nothing is ever as perfect as it seems. She keeps digging for answers until she unearths the stunning and chilling truth.
---
What I'm Reading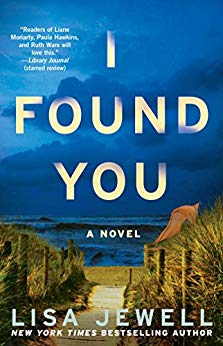 I Found You
By Lisa Jewell
In a London suburb, a newly married husband vanishes. In a seaside British town miles away, a woman meets a man on the beach who doesn't know who he is. Is there a connection between these two incidents? This is just one of the many questions raised in this compelling, terrifically written book by the wonderful Lisa Jewell. It's not really a murder mystery–just a fabulous, well mystery, about life, relationships, and the sometimes-disastrous choices people make.
---
What I'm Cooking
Are you a salad lover? Personally, I rely on them almost every day for lunch because they're so easy to throw together (lately I haven't even bothered much with lettuce and will mix mushrooms, chicken, and avocado with dressing. I also love a great salad to round out the meal at a dinner party. The other night I tried one called the "Pollan Signature Salad," featured in the new Pollan Family Table Cookbook, which the authors say they serve at all large gatherings. I can see why. I loved it: a mix of lettuce, sliced pears, shaved Parmesan, and caramelized walnuts. And then there's the dressing. The authors call it addictive and it really is, both vinegary and sweet. This is my new go-to, and I think you'll love it, too.
Until next month,