The Treasures Hidden in This Crazy, Awful Year
The pandemic has been so incredibly tough, hasn't it, but somehow in the midst of it I've been lucky enough to make a few wonderful little discoveries. For one, because of all the endless hours I've spent one-on-one with my husband (not complaining, I swear!), I've learned a few things about him I never knew—for instance that he liked to roller skate as a boy and regularly went fishing with his grandmother back then. What delicious little details to come upon. And he made me howl with laughter as he imitated going around a bend at the roller rink and losing his grasp on the girl he was skating with, nearly sending her airborne.
Here's another: I LOVE reading on a window seat. I have a few in my house in Pennsylvania, but I've always treated them more as decorative features or spots where our now deceased Westie liked to watch the snow fall. Over the past year, though, I've gravitated to them more and more. They're not only super comfortable and great places to read, but I really like setting my book on my lap from time to time and staring out the window, imagining the better times ahead for all of us.
Have you made some special discoveries as well?
Just Several More Months to the Release of THE FIANCÉE
I can't wait for you to read THE FIANCÉE and tell me what you think. It's a riveting story about a family vacation on a bucolic estate that goes horribly awry, what you might call a "locked room mystery" because it all plays out in one location.
That means when a brutal murder occurs, you're not wrong to assume the killer is right there in the house, sitting at the same table and drinking the same rosé as everyone else. Could it be the cunning new fiancée? Only time will tell. If you're a fan of authors Lucy Foley and Ruth Ware, as well as the movie Knives Out, I think it's a perfect choice for you.
What I'm Reading/Watching:

The Survivors
By Jane Harper
When a beautiful young woman is found murdered on the beach in a Tasmanian town, former local Kiernan Elliott, who's visiting his parents, can't tamp down his need to know what really happened, and the more he learns, the scarier things become. The woman's death begins to raise questions about the disappearance of a young girl a decade earlier and also stirs up the guilt Kiernan still harbors over about his brother's death.
Okay, I'll be honest. I didn't love this Harper novel as much as The Lost Man, which knocked my socks across the room, but it's a good solid mystery and like her other books provides a wonderful glimpse of Australia.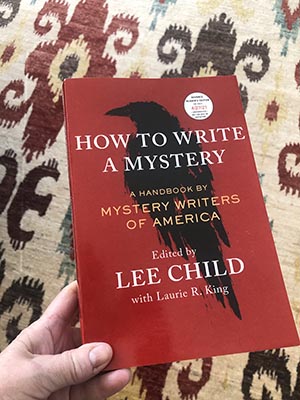 How to Write a Mystery: A Handbook from Mystery Writers of America
Edited by Lee Child with Laurie R. King
Is your secret fantasy to be the next bestselling suspense author? Then this terrific book is about to become your secret weapon! And I'm honored to have one of my tips included.

Bosch
Amazon Prime
This police series, based on Michael Connelly's mega bestselling series about L.A. homicide detective Harry Bosch, has been on for five years, and though I dipped my toe in a few years ago, I didn't stick with it. Well, I'm back (because I've watched nearly every other crime show available!) and really enjoying it this time around. The production values aren't dazzling, but each season has some really great twists.
And gosh, I do like unexpected twists in a crime story.
What I'm Cooking
How cool is this? Just when I thought I couldn't stand to fix another pandemic meal (you, too?), I noticed that the snow had melted off one of my herb pots and I had this glorious fresh sage. What inspiration!! I adapted Marcella Hazan's recipe for veal with sage and white wine to some chicken breasts I had on hand. Basically, you simply sauté the pounded, floured breasts in vegetable oil and eight or nine dried sage leaves, then, after removing the chicken, deglaze the pan with white wine until it's almost entirely evaporated, and add 2 Tbs of butter, creating a little sauce. Return chicken to the pan for a bit. I served the dish with some roasted cauliflower. A nice change of pace that I was definitely craving.
Until next month,